Giovanni Lonardi won the Clàssica Comunitat Valenciana 1969, the first race of the new European road season.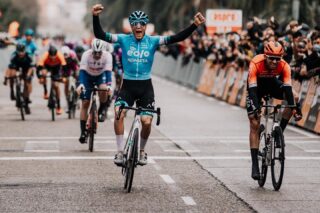 It was Lonardi's first win in the Eolo-Kometa team since he joined.
He began in the best possible way on the Costa Blanca, winning the competition with an outstanding sprint to the finish line.
Giovanni Lonardi: "I must confess that I did not expect to go so well. It was quite a cold race, it rained a lot….. In the end we were quite lucky, avoiding some accidents. My teammates guided me perfectly and I only had to ride the last 200 metres to win. In the end there were a lot of crashes, the road was a bit wet and we did well to stay in front, avoiding problems. The next objectives are to do well in Mallorca over the next few days, trying to repeat the victory".