The Giro d'Italia witnessed an extraordinary moment on stage 7 when Davide Bais, a rising star from Team EOLO KOMETA, emerged as the unexpected victor. Bais defied all odds, captivating the cycling world with his awe-inspiring performance and unyielding determination.
As proud sponsors of Team EOLO KOMETA, KOO Eyewear celebrates this remarkable achievement and the unwavering spirit of our sponsored athletes.
A Journey Beyond Expectations: 
"When we started, no one thought we had any chance of getting there, not even us."
Bais humbly remarked, reflecting on his triumphant ride.
Initially joining the breakaway to earn points and support his teammate Fortunato, Bais soon realized that fate had something greater in store.
Mile after mile, the belief in their chances grew stronger, and Bais meticulously conserved his energy for the final push.
With unwavering dedication, he poured his heart and soul into the race, ultimately seizing his first professional victory in a moment that defies belief.
Dedication and Team Unity: Bais's triumph goes beyond personal glory.
In a touching gesture, he dedicated his win to Arturo Gravalos, a comrade fighting a difficult battle, showcasing the compassion and camaraderie within Team EOLO KOMETA.
This victory is a testament to the team's unwavering collective desire to win and their seamless collaboration. Bais expresses his gratitude to his girlfriend, his family, and the entire team, acknowledging their crucial role in his success.
The bond shared between Bais, Ivan Basso, and Alberto Contador is palpable, reflecting an extraordinary mentorship that has propelled Bais to new heights.
A Symbol of Honor: As Bais dons the prestigious climbers' blue jersey, he pledges to defend it fiercely.
This symbol of honor represents his relentless pursuit of excellence and stands as a testament to his indomitable spirit.
With the Giro d'Italia still underway, Bais's victory ignites hope within the team, with the possibility of more triumphs on the horizon. The bond between the teammates grows stronger, serving as an inspiration for all aspiring cyclists.
KOO Eyewear takes immense pride in sponsoring Team EOLO KOMETA and being associated with Davide Bais's momentous achievement.
Our commitment to excellence aligns perfectly with the team's relentless pursuit of victory.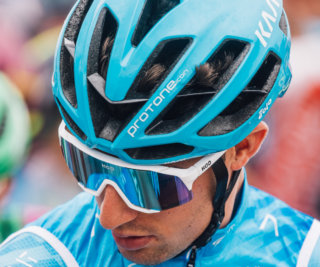 As sponsors, we provide cutting-edge eyewear that not only enhances performance but also embodies style and innovation.
Just as Bais pushed the boundaries of his abilities, our eyewear empowers cyclists to surpass their limits with unrivaled clarity and comfort.
Join us on this incredible journey with Team EOLO KOMETA as we celebrate the triumphs and embrace the spirit of cycling excellence.